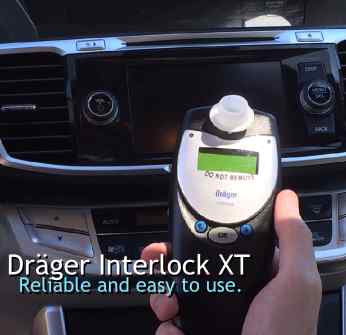 Illinois Ignition Interlock Installation
The Draeger Interlock XT is the most reliable and affordable breath alcohol ignition interlock device (BAIID) on today's market. It is the only BAIID certified world wide. The Draeger Interlock XT can easily be installed in any automobile and will never leave you stranded.
Draeger Interlock XT Features
User friendly display.
"Blow and suck" breath test.
Dual heaters prevent moister build up.
Works in extreme temperatures.
Has no false readings.
Camera (Required by State of Illinois)
Remote unlocking of device.
Nationwide network of installation locations.
What is an Ignition Interlock?
The Draeger Interlock XT is installed in automobiles to measure a driver's BAC before allowing the engine to start. The automobile cannot be started if driver's blood alcohol content (BAC) is above preset limit as defined by Secretary of Illinois. While operating the automobile, the BAIID will prompt the driver to take random breath (rolling) test and stores the information for monitoring authorities.

Device Installation
Device installation takes about one hour at an Illinois authorized service center. At your appointment, you will be asked to complete some paperwork including the BAIID contract and lease agreement. At completion of device installation, our technician will provide training on Interlock XT and a certificate of installation required to obtain your Illinois restricted driving permit.
Routine Monitoring Checks
Per Illinois secretary of state's office, ignition interlock devices must be calibrated every 30 or 60 days. BAIID recalibration takes about 5 minutes at one of our Illinois authorized service centers. During your appointment, data is download from your baiid device for Illinois monitoring authority and your next appointment is scheduled.
Draeger Interlock XT Removal
At completion of program, our technician will remove Interlock XT from your automobile. Breath alcohol ignition interlock device removal takes about 20 minutes. You will be provided with a certificate of completion required for reinstatement of your Illinois driver's license.
Main Office
AlcoTest, Inc.
3161 99th St
Urbandale IA 50322
Office Hours
Monday - Friday
8:00AM - 5:00PM
Testimonials
Hey AlcoTest!
I had the BAIID in my car for 2 years and just got my licence back. Was a long haul but AlcoTest was very friendly and helpful throughout. I would recommend AlcoTest to everyone if you need a BAIID. I have already got two of my friends to switch to your company! Thanks again
Chad G
Carlos
Even the license reinstatement lawyers on Avow had no idea how to address this issue. I was in full panic mode due to the lack of information, and just one call to you settled the concern. Thank you for being patient and helpful.
It is so appreciated that you take the time to be helpful to your customers.
I will never forget the kindness you have shown to me.
Sincerely,
Linda E